Olajumoke Orisaguna When Time & Chance Smiles on you Talk of modelling profession in Nigeria at the moment Jumoke Orisaguna is the name that
Olajumoke Orisaguna
When Time & Chance Smiles on you
Talk of modelling profession in Nigeria at the moment Jumoke Orisaguna is the name that will come to mind, everyone knows her story and it is attracting top brands from all over, providence or what do you call this? My most loved blogger, Moji Delano said, Jumoke's story is one of Dignity in labour, hardwork, and how God can change your story over night. Hard work pays and God never forgets his own'.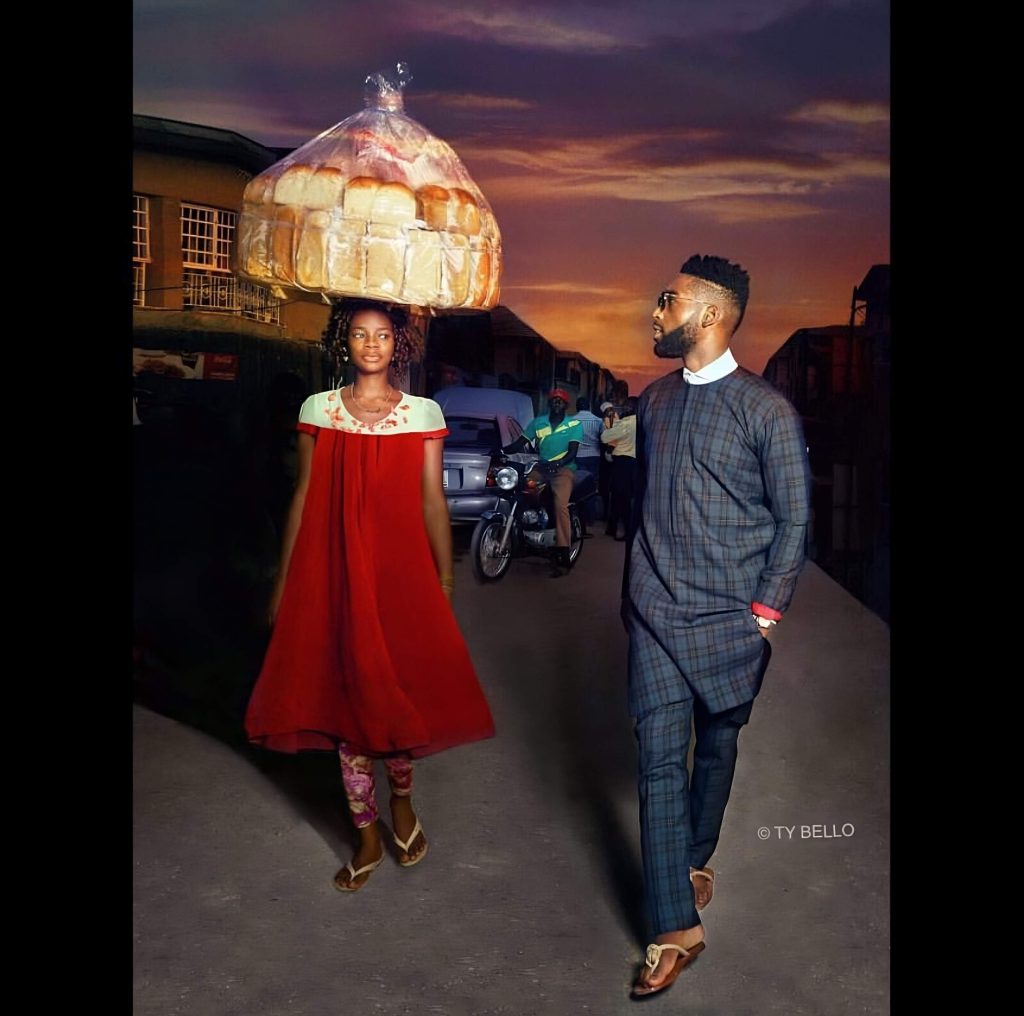 Synopsis: Olajumoke a bread hawker from the Sabo market bakery , walked entirely by coincidence unto the set of Thisday style shoot for Tinie Tempah The moment didn't look special at all. If anything she stood there a little confused. Some people asking her to leave the set and others asking her to stay. TY signaled if it was ok to take her photograph and she agreed and click and she moved on. TY's main subject of interest was the Okada driver that had slowed down just before she arrived .Okada riders have that cool Lagos vibe and always happen to add a bit of swag to street portraits. TY says,  'I was wrong to have paid her such little attention. Every frame with her in it was perfect and I couldn't help but wonder who this breadseller could be?
Action Plan: TY Bello sends tweets out looking for the breadseller who had already disappeared into thin air where she emerged from.
Jumoke's shack:  Jumoke's friend rush in to show her the photo on facebook and the summon issued by TY Bello
Scene 2: Jumoke, being led by a mallam into TY Bello's studios innocently, 'Aso kan na ni mo wo kiri Lana '.. Jumoke the 'model' the Internet had been searching for speaks almost no English. She explained how she had worn the exact outfit in our photograph the day before and someone showed her her own photograph on his phone from face book. She narrated her journey to Lagos …A hair stylist from Ire in Osun state but not making enough profit between she and her husband , a sliding door installer in from same village, to care for their two young children . At the invitation of a distant relative who knew someone operating a bakery, she relocated Lagos with her 14 month old daughter to give bread hawking a try , leaving her husband and older 5 year old behind
Action: TY Bello arranges a photoshoot and she comments, '.Jumoke looked straight into my lens emoting like she had done this all her life …. I knew we had found a star…
TY's Studio: asked what she really wanted to do, Jumoke answered, 'Ka ma kiri Buredi ko suwon 'she explained that bread hawking wasn't the most profitable business but put enough food on her table. It also put a roof over a head. Howbeit a roof she shared with scores of other hawkers. She was a trained hairdresser back in Osun state but her family could not afford the necessarily 'freedom ceremony'; a passing out ritual that gives a trainee a sometimes unwritten permission to start a full fledged salon.
Fast Forward: Jumoke was offered a internships, scholarships and even a modeling contract and like a dream or soap opera, Jumoke is a star, no! A Super Star and she says "I never expected that this could ever happen to me. My friends have told me they saw me on TV and they are really happy. My parents cannot believe their own child can become such a success. They are all so happy."
Jumoke fever spread like wildfire and her name's on the lips of everybody in Nigeria, even CNN and other international media houses are not left behind, TY Bello says "I think the reason why the story connects with everyone is because everybody has dreams. This is a very tough time, especially in my country. Everyone is looking for that magical break I don't think anyone planned this. I think this is definitely divine because the way people have connected with it is phenomenal. Its a phenomenal story".
TY Bello: I've asked myself over and again why all of this is happening . One thing is clear, This woman here is no charity case, We met her in the middle of her hustle … The woman works hard.. Seven days a week! With a family to support But with dignity..who pays that much attention to how she looks as she's about to hawk bread … Arranging the bread so delicately like it was work much more .. Making sure she left the bakery while it was steamy and hot … Every body likes their bread hot. All of this even when it's clear that her profit in a day is between N300-500. This is the story of so many Nigerians. The young boy selling gala in traffic… The woman braiding hair under the bridge. Nigerians work hard and we go it with style … This has taught us and I hope everyone reading to pay a little attention to those clearly working hard around us. You may have your own wahala to deal with but nothing gives you a bigger break from your troubles than just making life easier for someone else. Give an orange seller a N1000 note and she may be able to take the next day off to attend to herself and her children. Jumoke is sorted!  I personally believe so with all the doors opening up for her but This story is more about the 'jumokes'around you who put in all the work but just need a little push .You may not be able to help everyone but as I learnt from someone I really respect … In your own unique way …. Do for the ONE what you would have liked to do for ALL.
Bottomline: whatsoever your hands finds to do, do it with all your might, you never can tell when the light of providence would shine on you! Whilst TY Bello wanted the footage of the okadaman, God was perfecting Jumoke's superstardom, it can happen to you, life on the street is not condemnation, it could be your flight to glory, embrace it!
For More Juicy Stories, Get your copy of GENESIS INTERNATIONAL MAGAZINE, (Issue 10). Available with the vendors, and online on jumia.com.ng, konga.com. Available also internationally in the USA in all Barnes & Nobles Stores, Chapters booksellers in Canada and isubscribe.com in UK.